GMC Hummer EV Truck and GMC Hummer EV SUV FAQ
The world's first all-electric supertruck
GMC Hummer EV Truck and GMC Hummer EV SUV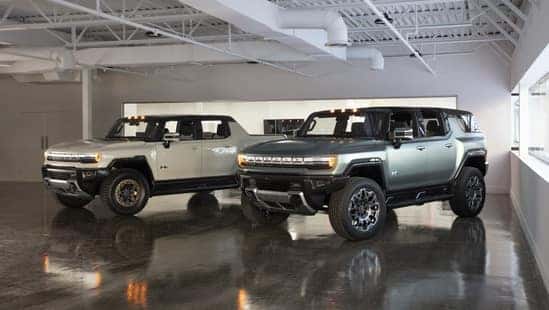 Frequently asked questions about the new Hummer EV SUV and the new Hummer EV Truck
Post-order of your new Hummer EV – Getting to know your Hummer EV
How do I get in touch with my concierge?
833-Hummer-EV. You can call from 8am-7pm Monday through Friday with any and all Hummer EV questions you may have. They'll be happy to help you.
How to change info for Hummer EV reservation?
Call the Hummer concierge line at 833-Hummer-EV!
Can I stay cool when my new Hummer EV is charging?

Charging an Ultium battery, like what powers the new Hummer EV, allows a similar experience to remote starting your car on a hot or cool day. The Hummer EV charges your battery while also using the power grid to heat or cool your Hummer to a comfortable temperature, power your accessories, and even warm or cool the battery, all while charging up.
How do I keep my new Hummer EV charged?

There are so many different ways to keep your Hummer EV charged up and ready in places and times that fit your lifestyle.  Level 1 and Level 2 charging can be achieved at your home, but level 2 charging does require a professional installation. Once installed, you'll be able to fill your "tank" while sleeping.
Level 2 chargers can be found at your workplace, allowing you to refill your Hummer's range while getting through your workday. As electric vehicles become more and more common, these charging stations are spreading rapidly. 
Level 2 chargers can be found in public around town, near routes you'll travel, and in myriad other convenient locations. With its rapid-charge technology, the new Hummer EV will be ready to go in no time.
How can I maximize the range of my Hummer EV?
Heating or cooling your vehicle while plugged in and charging allows you to ready your comfort preferences while using power from the grid, making the most of your charging.
Using your heated or cooled seats as your main temperature control is far more efficient than the HVAC controls, so using these as your primary comfort mechanism will help keep the range of the new Hummer EV as high as possible.
Keeping your speed below 70 miles per hour on the highway ensures you're able to travel farther without having to stop to refill your battery.
Accelerating slowly in the new Hummer EV is the most efficient way to get up to speed without draining your range.
If it's available, it can help your range when you make use of the one-pedal driving feature or regenerative braking in the new Hummer EV.
Much like an internal combustion vehicle, you'll want to ensure proper inflation and condition of your tires to attain the highest efficiency possible. 
Will I be able to road trip in my new Hummer EV?
The United States and Canada have over 75,000 charging outlets at over 28,000 charging stations, so you'll be ready to refill on the road when your range starts to run out. 
How do I find charging stations in my new Hummer EV?
The Energy App allows you to map out your range in ways that make your range make sense. It also lets you plan a route to the most convenient charging station and use that route in your preferred navigation app. It's that easy.
What's the difference between the Hummer EV Pickup and the Hummer EV SUV?
The SUV is about 9-inches shorter on its wheelbase than the new Hummer EV truck, and that allows it to offer a turning circle of only 35.4 feet, which is smaller than that of a Mustang Mach-E. 
The Hummer EV SUV is intentionally smaller to allow for two comfortable rows of seating, plenty of storage space in the trunk, and optimizing its off road ability.
These two vehicles are similar, but with different features that allow for different uses.
The truck aspect of the new Hummer EV Pickup allows for hauling in a way that the SUV isn't meant to operate.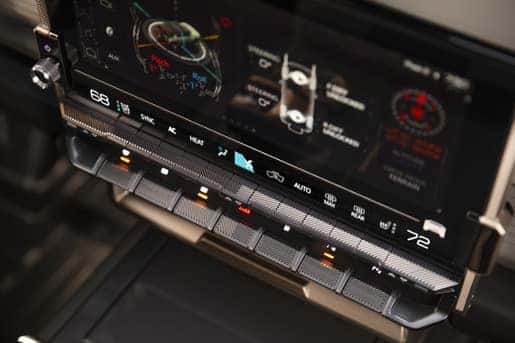 Reserve your new Hummer EV SUV or new Hummer EV Truck
here
.