New Chevrolets Near Me – Serving Perry, Enid, Stillwater, and Red Rock Oklahoma
You don't have to travel to OKC to find a cheap new Chevy near me. The whole new Chevy lineup is more affordable than ever, and you can find a cheap chevy at your local chevy dealership near me.
You're looking for the 2021 Chevy Spark in Enid and the 2021 Chevy Sonic in Perry.
The 2021 Chevy Spark in Perry is a compact little hatchback that's packing massive technology and comfort features while still staying comfortably within your budget. Apple Carplay, once you've experienced it, is an absolute must for your commute. It makes navigating Perry Oklahoma, music shuffling, and communicating a seamless experience without diverting your attention from the road.
This new Chevy near me comfortably seat four while still carrying everyones' gear, and it is the easiest vehicle to parallel park that you'll ever drive in Perry, Oklahoma.
There aren't many Chevys near me at this level of quality for less than $17,000.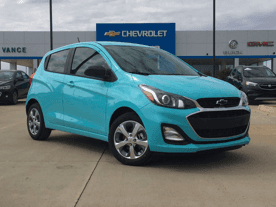 More New Chevrolets near me in Perry, Oklahoma
It's highly similar to the 2021 Chevy Spark in Perry in terms of the technology, cockpit setup, and fuel efficiency, but with the styling of a small sedan.
The 2021 Chevy Sonic near me has ample storage space and room for four adults to comfortably ride, though you could technically fit five people total inside. It's a small sedan, but it has a handsome appearance and the versatility to fit your style and budget without compromising on modern tech and safety features.
It's easy to park this 2021 Chevy Sonic near me even in tight spaces in Perry Oklahoma, powerful enough to cruise at highway speeds and allow for passing, and has very little issues with blind spots.
Cheap new cars near me in Perry Oklahoma are hard to find, but there's always something fitting that description on the lot of your local Chevy dealer at Vance Chevy Buick GMC in Perry.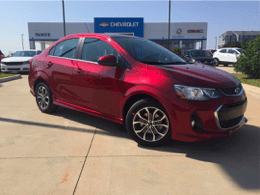 Find more new cars near me in Perry here